Adjunct Programs at Nature's Edge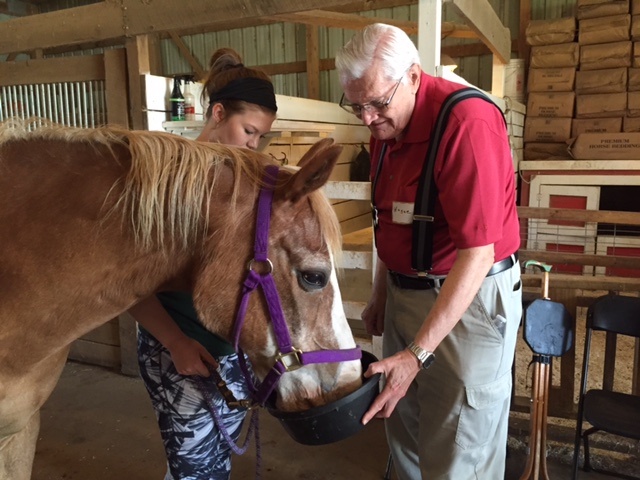 Reminiscing on the Farm
"Reminiscing on the Farm"
The farm setting, the out-of-doors and our animal companions all contribute to calling back memories of cherished moments for participants. Sharing recollections from each person's "inner diary" in a warm and caring environment promotes a sense of well-being for participants. 
The Reminiscing on the Farm program held at Nature's Edge each summer invites seniors, senior groups and group programs for adults with disabilities to visit the Nature's Edge farm and meet the animals that reside there. Reminiscing on the Farm (ROTF) combines our natural setting and the company of animals to provide a supportive, sensory-rich setting that encourages seniors and other participants to recall and share memories and enjoy social interactions.
Seniors have the opportunity to interact with our animals and learn about them during a Reminiscing session. Memories of childhood days, perhaps of growing up on a farm, of favorite pets or animals, of being outdoors, and many other cherished moments are easily recalled in our peaceful farm setting with the companionship of animals. Reminiscing sessions may also include a gardening or memory book activity. A snack of homemade apple pie is provided to groups upon request. Family members and loved ones are also invited to attend and participate.
Sessions are characterized by excellent group dynamics and spontaneous social interactions. The Reminiscing on the Farm program schedules groups from June to September. For more information on ROTF, please contact Nature's Edge of call us at (715)859-6670.
Social/Specialty Groups
"Summer Learning Out-of-Doors!"
Engage the benefits of summer to focus on healthy development and learning! Let your child unplug from technology this summer and plug into out-of-doors learning at Nature's Edge!
Social and specialty groups offered at Nature's Edge during the summer months include the following:
Learning Social Skills on the Ranch
Two groups: Ages 7-12 and 13-18
Social and communication skills are explored and practiced with the help of nature and the horses
Staying Active in Nature/Sibling Fun
Ages 6-18
Summer energy is channeled into running, jumping, hiking, climbing, digging and interaction with animals on Nature's Edge 65-acre ranch to promote a healthy and active lifestyle. Sibling interactions are encouraged.
Preschool Outdoor Play
Ages 3-5
Fun, outdoor activities that include animals and nature focus on language development, play skills and peer-to-peer interactions.
While each group program targets unique goals, all social and specialty groups promote the benefits of a healthy and active, out-of-doors lifestyle, the development of character and confidence through successful engagement, and the opportunity to form meaningful relationships.
Feel free to contact us if you have questions.
Phone: (715)859-6670
Complete registration forms are available here.