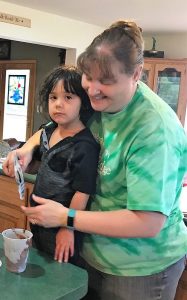 Cheryl Petrus has been an Occupational Therapist for over 20 years.  A native of Northwest Wisconsin, Cheryl started her OT career in Indiana, then moved back to Northwest Wisconsin to raise her family.  Cheryl views herself as an eclectic occupational therapist, having experience working with people throughout the lifespan and has specializations in many areas including lymphedema, myofascial release, and craniosacral therapy.
She has worked in multiple settings including hospitals, inpatient and outpatient clinics, and skilled nursing facilities, including serving an interim OT position at Nature's Edge.  Cheryl continues to work at Nature's Edge as a mentor and consultant, believing in the strength and value of professional development.
Cheryl and her husband have two teenage daughters and own a turkey farm, raising turkeys.  She enjoys spending time with her family and friends and is actively involved in fishing, farming, and bowling.