Reminiscing on the Farm
September 4, 2019 @ 10:00 am

-

1:00 pm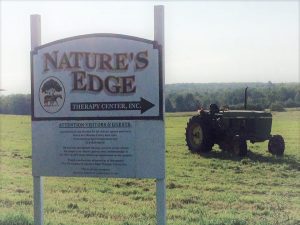 "Reminiscing on the Farm" at Nature's Edge is a program that invites seniors to enjoy our peaceful farm setting with a variety of animal companions, while sharing memories of life's experiences — perhaps childhood days, of growing up or working on a farm, of favorite pets or animals, being outdoors and of many other cherished moments.  Seniors have opportunity to interact with our animals, to pet and brush them and to learn about them and their care. Our dogs, cats, pot-bellied pigs and sheep roam about, seeking and receiving attention.  Our llama, cow, donkey and several horses — a miniature, Icelandic, Norwegian Fjord, Gypsy Vanner and others — are introduced.  In the midst of the animal visits, memories are recalled and recounted.
Reminiscing sessions may also include a gardening activity. A memory book is provided to each senior, and a homemade apple dessert is served to groups upon request.  Groups may bring a picnic lunch to eat before returning home. Family members and loved ones are invited to attend and participate.  Sessions are characterized by excellent group dynamics and spontaneous social interactions.  Sharing memories gives insights into each other's history, and builds friendships and a sense of community.
The "Reminiscing on the Farm" program is available on Wednesdays, June 5 through September 4, 2018. The program is largely funded by a grant from Bader Philanthropies. A volunteer donation is asked of visiting facilities to help cover our costs.  The program requires prior registration and scheduling.  Please call Nature's Edge Therapy Center to obtain more information regarding this program, including an opportunity for your organization or facility to participate!