2021 Summer Group Programs at Nature's Edge
"Summer Learning Out-of-Doors!"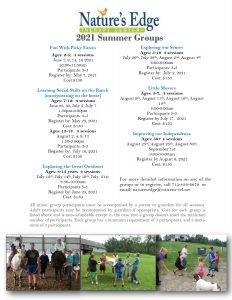 Engage the benefits of summer to focus on healthy development and learning! Let your child unplug from technology this summer and plug into out-of-doors learning at Nature's Edge!
Click on the image of the flyer to learn more about the summer programs being offered in 2021 at Nature's Edge or scroll down to read more about our 2021 group offerings.
 _____________________
We're excited to announce our 2021 summer groups to focus on healthy development and learning!  This year we offer courses for all ages. Use these beautiful summer days to unplug from technology and plug into outdoor learning at Nature's Edge.  Our skilled leaders, beautiful environment, and innovative methods greatly enhances learning and makes it fun to boot!
 This year we are offering 6 different programs.  Full descriptions of what each group entails are below.  For dates and times for each group, click the link to the flyer above.
Fun with Picky Eaters (ages 2 to 5)

This group is for small children who have difficulty with new textures and tastes.  The activities will provide socialization and fun with foods and peers in our ranch setting with support from motivating animals during each session.  Therapy will include learning, playing, and interacting with a variety of foods and textures in a safe, rewarding environment.  
Note:  Children participants must have some beginning language and ability to follow simple directives.
Exploring Our Senses (ages 5 to 9)
Participate in sensory/messy play and movement based opportunities activities to promote sensory exploration and regulation.
Little Movers (ages 3-7)
This is an occupational therapist led group in which participants will benefit from opportunity to work on building motor coordination, confidence, self-regulation, and social skills on a 65-acre nature ranch.

Learning Social Skills on the Ranch (Group 1, ages 7 – 12 / Group 2, ages 13-18)
Outdoor activities integrated with nature and animals (including equine assisted activities) will be used to teach social skills. Eye contact, greetings, making requests, turn taking in conversation, expressing feelings and paying attention to nonverbal communication are themes that will be discussed and role-played. Homework is provided for practice in daily activities.  
Exploring the Great Outdoors (ages 8 to 13)
Participate in nature based activities designed to teach participants how to initiative outdoor play to keep active during the summer months. Activities will include nature exploration, scavenger hunts, and open-ended creative activities.
 'Improving our Independence' (ages 50 and older)
Learn how to become more independent throughout aging. Education will be provided on energy conservation, kitchen/community mobility, and adaptive equipment for dressing/bathing to become more independent or continue our independence safely. Group members will participate in education of fall prevention and how to incorporate exercises to maintain strength or gain strength to carry over for home use while enjoying our beautiful nature environment.
Important Information for all Groups:
All minor-aged group participants must be accompanied by a parent or guardian for all sessions.   Adult participants may be accompanied by guardian, if appropriate. Cost for each group is as listed on the flyer and is non-refundable, except in the case that a group doesn't meet the minimum number of participants.   Each group has a minimum requirement of 3 participants, and a maximum of 5 participants.  
Feel free to contact us if you have questions.
Phone: (715)859-6670
Complete registration forms are available here. 
Want to sponsor our summer group programs this year? Read this letter from our founder and fill out this quick sponsorship form!